Best Ponce Restaurants
Check our favorite Ponce Restaurants. In plain terms, the Puerto Rican Caribbean Cuisine ("comida criolla Boricua") is what you get when you mix the ancient techniques of the Taino cookery with those of the Spanish conquerors and African slaves that came after.
For a taste of our best culinary South coast traditions, come and learn the language of these creative kitchen artisans from Puerto Rico that TravelPonce positively recommends:
Isabel 46
The Mecca where all true ponceñistas are initiated is actually the house of the owners of this charming restaurant in the historic heart of Ponce. Personally tendered by Las Tías ("aunts") Titi Graciela and Titi Wilda, here you'll find an exquisite blend of the old and new "cuisine Boricua" in an intimate, familiar yet romantic setting that evokes culture and history.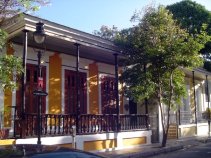 Their glazed rib eye in guava and wine sauce is worth the wait, as everything is jealously prepared at the moment, with fresh local ingredients by their team of well trained "nephews". Local loyal bohemians meet here every Friday night for their weekly dose of nostalgia and live music.
#46 Isabel St., 787.840.4149; WED thru SAT 6am-10pm (SUN 12-6pm), $$.
Lola
Right at Plaza Las Delicias, this is the main outlet of the stylish, brand new (July 2009) Ramada Ponce Hotel.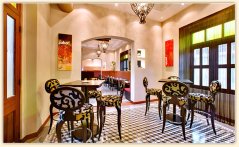 Self described as a sensual, delicious, passionate fusion of flavors and colors, this eclectic cuisine establishment pleasantly surprises the visitor with its vibrant atmosphere.
Try the grilled filet Mmm!gnon in Oporto wine, served with mushroom risotto. Good, friendly service.
Union & Reina St. corner, 787.813.5033; SUN thru WED 12-9pm (THU thru SAT 12n-12m), $$.
Archipiélago
Experience the heavenly creations of chef Alejandro Vélez Blasini (Ponce native and Vermont's New England Culinary Institute graduate) at this ELEGANT, cosmopolitan, loft style 6th floor restaurant with the best panoramic views of the city center.
Vegetarians will love Archipiélago's Portobello mushrooms, stuffed with creamed peppers & onions, and fresh parmesan cheese; served with fresh vegetables in white wine. The new Archipiélago Restaurant in Ponce offers chic indoor & outdoor seating in the best location, location!: right across the emblematic Parque de Bombas, Marina & Cristina St. corner in Plaza Las Delicias, 787.812.8822; WED thru SAT 5pm-10pm (FRI opens at noon, SUN 12n-5pm), $$...
La Nueva Casa del Chef
A hidden gem of a restaurant, tucked into the parking lot of Centro del Sur Shopping Center.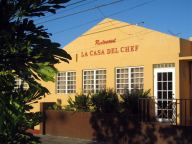 Despite its rather bland exterior and odd location, it is an impromptu art gallery in the interior with all the beautiful original paintings up for sale.
Well catered by a very helpful and hardworking staff. Amazing breaded trunk fish! This jewel among Ponce restaurants has a nice atmosphere and is a fashionable alternative for both a romantic or family dinner.
#23 Callejón Fagot, 787.843.1298; SUN thru THU 12-9pm (FRI-SAT 12-11pm), $$.
La Fonda de Angelo
Classic example of a typical and very successful, small family operated restaurant in the nearby town of Santa Isabel.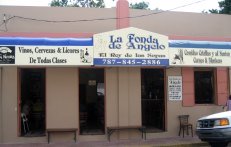 Always present owner-chef Angelo and daughters Myrna and Yanira graciously serve the most outstanding, finger licking, garlic fried fish in the island.
Have a sample of exquisite "sorullitos" (crispy corn fritters) with mayo/ketchup sauce or try your luck and place your horse race bets at the adjoining OTB agency, while you wait for your order. Very popular among locals.
#6 Betances, Santa Isabel; 787.845.2886; MON thru SAT 11am-6pm,
Chef Ramón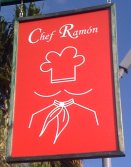 Time for the best seafood in the region…Young Puerto Rican chef Ramón Carro awaits you at his cozy picturesque beachfront property in little Salinas, well worth the 30 minute scenic South coast drive from Ponce.
Complement the delicious conch scaloppini in caper sauce with your choice from the carefully chosen, readily available international selection of fine wines.
#49 "A" St. Playita Ward, Salinas; 787.824.7601; WED thru SAT 11am-10pm (SUN -8pm), $$.
View the expanded version of our Ponce Map, and check the user friendly icons conveniently indicating the exact locations of all the Ponce restaurants recommended in your guide (opens in a new window). You may also check our collection of beautiful Ponce photos.
Have A Great Ponce Gastronomy Story To Share?
There are so many more good restaurants and eateries in Ponce besides those recommended by our staff!
Do you have an absolute favorite that "deserves" kudos in our site?
Please guide us to your TOP EATS IN PONCE. We, along with all our TravelPonce visitors, would love to hear about your experiences and valuable suggestions.
What Other Visitors Have Said
Click below to see contributions from other visitors to this page...