Property for Sale in Ponce
Looking for an attractive residential investment in Ponce?
Check out this comfortable, concrete (cement) residence with a separate studio apartment in Ponce's exclusive neighborhood of La Rambla: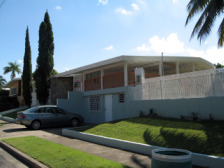 For sale by owner
Conveniently priced at $285,000
Well below its 2005 appraised value!
Now producing monthly RENT income until January 2012
Debt free and with owner financing available
750 m2 (8000 sq ft) land lot
200 m2 (2200 sq ft) livable space
High ceiling with elegant crystal lamps
Spacious living, dining and family rooms
Tiled floors, no carpets
5 bedrooms, 3.5 bathrooms (includes separate efficiency apartment)
Ample terrace, laundry, and storage gazebo
Huge patio with mature tropical fruits (lemon, orange, banana, coconut) trees
Solar water heater
7 Air Conditioning units - 5 ceiling fans
3 water tanks 5700 liters (1500 gallons), 2 independent water pumps
20KVA diesel electric power plant
Parking for 4 cars (includes covered space with automatic garage door for 2 vehicles)
Interested in this beautiful, well maintained Ponce property for sale ? You may call the owner directly (305-335-9753) for more information or to schedule an inspection appointment at your convenience...