Ponce Puerto Rico... the Pearl of the South
Simple. Because it has so much to offer... The city of Ponce Puerto Rico, hospitality capital of the world, was founded in 1692 and named after Juan Ponce de León y Loayza, the grandson of Spanish conquistador Juan Ponce de León (1474-1521).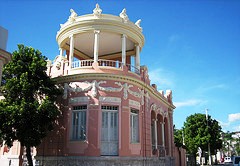 Often referred to as "La Ciudad Señorial" (The Noble City) and "La Perla del Sur" (The Pearl of the South) this charming enclave of strong Catalonian heritage will surely captivate you with its small town flair and laid back atmosphere.
Ponce's majestic town center is RICH in history . Fall in love with the well preserved, unique neoclassical style of its old quarter. Certainly one of the most romantic travel destinations in the island, ...such a living gallery of picturesque facades and street corners modeled on Barcelona's architecture.
Ponce is one of only eight other non-European cities (along with Mexico City, Havana, Valparaíso, Lüderitz, Mar del Plata, Buenos Aires and Rosario) in Ruta Europea del Modernisme, an international non-profit association for the promotion and protection of Art Nouveau heritage in the world. The route was established in the Art Nouveau's capital city of Barcelona, by the European Union and the government of Spain in the year 2000.
It all begins at elegant Plaza Las Delicias. Right at the center, the Ponce Cathedral Our Lady of Guadalupe equally splits the square, between North facing Plaza Luis Muñoz Rivera and South facing Plaza Federico Degetau, from which you can conveniently walk to most of the interesting museums in the city. Right across Marina street (East side of town square), almost in front of the old black & red firehouse (the emblematic Parque de Bombas) you will probably see a long cue of "pilgrims" patiently standing in the sidewalk. Jump into the line! It moves quite fast... and start your visit by tasting one of the many flavors at Kings Ice Cream (aka "los chinos de Ponce"). Join the seemingly endless stream of happy patrons. At no extra cost, you may want to try 2 flavors in a (midsized & up) combo cup.
Done? NOW you are ready to explore the Ponce experience. Check these $2pp! guided Ponce tours or just follow your TravelPonce guide... we'll take you "by the hand" to the points of interest & top attractions , the best gastronomy and accommodations to make your Ponce Puerto Rico visit a memorable and uplifting experience.