San Agustin Bakery
by Maya
(Poland)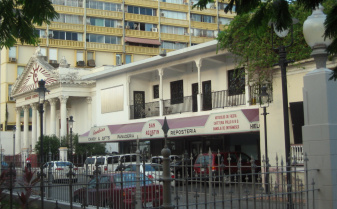 San Agustin Bakery in Ponce
Delicious, fresh and crispy bread all day long. You should try Panadería y Repostería San Agustín in Ponce for its famous PAN DULCE (lightly sweetened bread) or the taste of the thin crust of PAN DE AGUA (Puerto Rican "water" bread).
A great variety of yummy looking sweets, drinks and tasty sandwiches is served by friendly personnel. If you take your kids, Tom and Jerry on the funny motorcycle will make your visit unforgettable. OPEN for breakfast 7 days a week, closing by 10PM.
TravelPonce adds:
You are so RIGHT! In fact, that's where we get our "pan nuestro de cada día" (daily bread) as we live only one block away, my dear Maya.
Panadería San Agustín in Ponce is owned and managed by generous Don Juan Rodríguez and his lovely wife, who live in the penthouse above the bakery. So I guess we can say they are "always on top" of their business... lol ("el ojo del amo engorda al caballo" as we say in Spanish). Following the family tradition, their son operates another outlet in PR-14 between Ponce and Juana Díaz, maintaining the same name (San Agustín #2), and unique taste/style/quality of their celebrated bread.