JJG Gas Station, Downtown Ponce
by Helen
(Florida)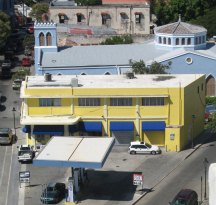 100 % pure Fruit sorbets to go at the gas station in front of the Dora Colón Clavell Urban Park at Marina Street in downtown Ponce (only two blocks from the main city square).

We spent last summer holiday in Puerto Rico. Visited fabulous San Juan, Mayagüez, Mona Island and finally Ponce. It`s truly the Island of Enchantment.

Right now I discovered your page and it`s fantastic! Great job! Ponce is so beautiful. It evokes so many happy moments. I remember driving in the narrow streets of the city where we bought terrific mangos from a street vendor and then stopped to buy water at the gas station and discovered these icy treasures- Fruit sorbets.

It`s a kind of a frozen dessert, frappe, locals call it "limbel"( although this word does not exist in any dictionary...?) It had ice crystals on the top of the plastic cup. Awesome! Cool and just delicious.

You can get orange, strawberry, coconut, parcha (passion furit), pineapple... and many other flavors. My favorite is tamarind - such a delicious, brown, sour-sweet fruit of the tropics. I checked and it`s rich in Vitamin B and high in Calcium. Gives you a lot of energy. ONLY 1 BUCK! It is very refreshing. You will naturally feel sexier after having it . Enjoy!