Top Five Ponce Attractions
Ready for your tour of the main Ponce attractions?
There is so much to see in Ponce that you will want to extend your stay while leisurely exploring its remarkable tourism offer. Check this link for a list of ALL the Ponce attractions in our guide. The following are (only) the TOP 5 Ponce points of interest, as recommended by your TravelPonce experts:
Museo de Arte de Ponce (MAP)
Without any doubts, The Ponce Art Museum is honorably the number one tourist attraction in the City. Celebrating its 52nd anniversary in 2011, is the ONLY one in Puerto Rico credited by the American Association of Museums (AAM) and is widely recognized as a world class, premier institution of Italian Baroque, French Academic, and British 19th-century art.

It hosts an extraordinary collection of approximately 4000 art masterpieces in a building designed by famous architect Edward Durell Stone (New York's Radio City Music Hall and Museum of Modern Art), an amazing piece of art by itself often referred to as the Parthenon of the Americas. Showcased is Frederic Leighton's captivating 1895 painting Flaming June, certainly one its most valuable treasures.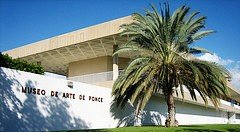 Madrid's El Prado and London's Tate Britain, are only two of more than eighty renowned institutions all around the globe that have shared Ponce Art Museum's traveling exhibitions over the years.
On November 2010, and after a major (USD $30 million) expansion and renovation, the museum proudly reopened its facilities to the general public. Boasting nearly twice its former exhibition space plus a new library, a museum store, the Luis A. Ferré Historical Archives and the Anton J. Konrad Center for Restoration and Conservation, the museum will also open a new restaurant and cyber-cafe in early 2011 - 787.848.0505 – WED thru MON (10:00am-6:00pm) - USD$6PP. Daily guided tours at 11:00am and 2:00pm.
The Ponce Art Museum, the many other Ponce attractions as well as its TEN additional museums (most for any other municipality in the island) will surely guarantee a cultural feast for your well spent, precious vacation time...
The next four entries in the TOP FIVE Ponce attractions are (all) listed in the U.S. National Park Service's Register of Historic Places.
Hacienda Buena Vista Nature Reserve
Carefully maintained and well managed by the Puerto Rico Conservation Trust (Fideicomiso de Conservación) this restored coffee hacienda museum truly is a 19th century GREEN (water driven) engineering wonder in the middle of a paradise. Visitors take 2-hour tours by well prepared interpreters in a fascinating journey back through Ponce's colonial history.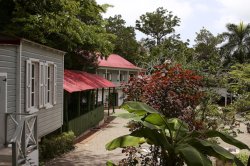 You will be guided through the house of the Vives family, the slave quarters, the warehouse, the depot where the coffee processing machinery and the corn mill are lodged and their inspiring natural surroundings. Separate educational birding and hiking tours are also offered. RESERVATIONS required - 787.722.5834 Ext 240 – WED thru SUN (8:30am-3:30pm) - USD$8PP.
Tibes Indigenous Ceremonial Center
Eroded by storm waters and discovered by a local farmer in 1975, this Igneri (pre-Taino tribe) settlement, dating back to the First Century (25 AD), constitutes the oldest astronomical observatory in the Caribbean and one of its most precious archaeological sites.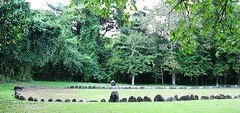 A total of 9 ancient courts and ceremonial parks, the largest indigenous cemetery in the region with 186 human remains, a museum depicting articles recovered at the site, an exhibition hall and other facilities for the general public. Guided tours – 787.840.2255 – TUE thru SUN (9am-4pm) – USD$3PP.
Serralles Castle
A sugar industry museum located in an imposing hill top mansion overlooking downtown Ponce, with spectacular panoramic coastal views. Built in the 1920's by the wealthy family owners of the local rum distillery.
Designed by famous Puerto Rican architect Pedro de Castro Besosa, in splendorous Spanish Colonial Revival style, this gem among the Ponce attractions is a little piece of Andalusia in Puerto Rico. It includes a restaurant with facilities for group activities, an auditorium, plus lush, manicured gardens and magnificent fountains. Well illuminated at night, the castle offers all residents and visitors a romantic, nostalgic view from the town center below. Guided tours – 787.259.1774 – TUE thru SUN (9:30am-5:00pm) – USD$6PP.
Parque de Bombas
The emblematic Old Ponce Fire Station, right behind the cathedral at main Plaza Las Delicias, was originally built as the principal exhibit pavilion for an 1882 Trade Fair Expo.
Designed by a Spanish Army architect who later became Ponce mayor (coronel Don Máximo Meana y Guridi), the black and red wooden structure was later turned into the City's main firehouse; a function which it served for more than 100 years. Its Gothic style exhibits a Moorish influence and is by far the most easily recognized landmark in the island. Today it serves as a small museum honoring Ponce's heroic firemen. 787.284.3338 – OPEN 7 DAYS/WEEK (9:00am-5:00pm) – FREE ADMISSION.
View the expanded version of our Ponce Map, and check the user friendly icons conveniently indicating the exact locations of all the Ponce attractions mentioned in your guide (opens in a new window).