Pito's Seafood On the Beach
by Lydia
(New Haven, CT)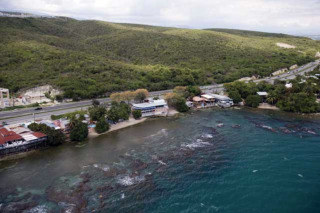 Pito's Seafood Cafe & Restaurant
I went to Pito's Seafood Restaurant right on the beach. It was very nice and the food was absolutely delicious.
I had Chuleta Kan-Kan, this consisted of a HUGE Pork Chop with tostones and yuca, it was so big I could not eat half of it.
TravelPonce adds:
Award winning Pito's Seafood belongs to the exclusive group of Puerto Rican restaurants known as Mesones Gastronómicos.
As its name implies, there you'll indulge the freshest seafood sitting at the water's edge on the South Coast of Puerto Rico. It boasts open-air views of the sea for casual dining, an authentic wine cellar for more intimate parties and two air-conditioned rooms for elegant dining. Also, you may try their fine local and international cigar menu at the Cigar Room.
For their varied menu and more information visit Pito's Seafood Cafe & Restaurant website.