The Ponce Cathedral
The history of the Ponce Cathedral goes back to 1670, more than 20 years before the foundation of the city itself, and started as a small rustic chapel dedicated to the Virgin, Our Lady of Guadalupe.
Its present structure which dates back to 1835 has been randomly razed by fires and tremors throughout its history. Severe damage was caused by a 1918 earthquake that almost destroyed its two original octagonal towers while killing the sacristan by lighting.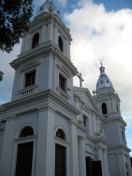 Slow but masterfully reconstructed in the early 1930's by Ponce architect and Cornell University graduate, Francisco Porrata Doria, it is distinguished by its two "new" elegant (and now square) towers of great decorative wealth which frame the original neoclassical style central body. Its main floor consists of three naves, a brick dome, and inquisitive pillars of three columns sustaining its arcades. The stylish main altar is made of translucent alabaster donated by the wealthy Ferre family, founders of the Ponce Museum of Art.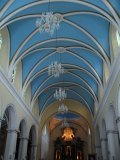 Pope Pius XI officially designated it as the Catholic Ponce cathedral back in 1924. It has a small cemetery in its interior and an impressive, harmonious pipe organ installed in 1934 and re-inaugurated in 1989 after a tedious 9 year restoration process. Famous among its altar boys was Ponce born musical genius Juan Morel Campos, the quintessential composer of Puerto Rican Danzas.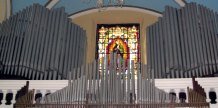 Among the normal, daily church activities, the traditional Christmas night midnight mass (Misa de Gallo) stands out. In addition, you should not miss the December 12 Virgin of Guadalupe commemorative celebration known as Las Mañanitas de Ponce . 787.842.0134 – DAILY MASS – FREE ADMISSION.
View the expanded version of our Ponce Map, and check the user friendly icons conveniently indicating the exact locations of all the Ponce attractions mentioned in your guide (opens in a new window).