Museum of Ponce Architecture
Casa Wiechers Villaronga
Since 1996, the home of the Ponce Architecture and Urban Planning Museum is rightfully located in this fine Art Nouveau gem from a bygone era. Go back to the early 20th century with their interesting displays and photos of master works from Blas Silva Boucher, Francisco Porrata Doria, Alfredo Wiechers Pieretti and other prominent local architects from the same period.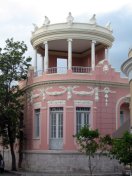 After all, our unique Ponce ARCHITECTURE is what undeniably makes us the most romantic travel destination in Puerto Rico. You can not be a genuine Ponceñista until you study more about our rich history!
Ponce, irrefutable guardian of Puerto Rican criollismo, is portrayed in the prestigious Art Nouveau Route established in Barcelona, by the European Union and the government of Spain for the world preservation of modernist heritage.

Designed by Wiechers in 1911 as his own family home, this treasure trove of culture is one of the many antique Ponce mansions that have been preserved and converted into museums. With elaborate neoclassical details and its majestic roof-top gazebo, this house museum is fitted with an amazing set of original custom made, Catalan modernist furniture. Pay particular attention to the elegant shower and bath room fixtures.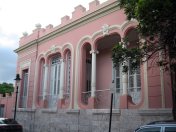 Alfredo Wiechers Pieretti, the son of a German colonist and his Corsican wife, was born in Ponce and graduated from Paris' L'Ecole Spéciale d'Architecture. He lived for six years in Barcelona while working at Enric Sagnier i Villavecchia's distinguished studio.
After leaving his graceful mark on our City (Casa Serralles 1911, Casa Oppenheimer 1913) he sold the house to the Villaronga family and fled in 1919 to Barcelona, under the political pressures of the new (American) invaders. Although his prolific works (1911-1918) include hotels, stores, mausoleums, and even factories; he ventured out of Ponce only to design two structures for wealthy Catalonian families in the neighboring mountain towns of Adjuntas and Aibonito. Plan a visit to the Ponce Architecture and Urban Planning Museum and enjoy...- 787.843.3363 – WED thru SUN (8am-4:30pm) – FREE ADMISSION.
View the expanded version of our Ponce Map, and check the user friendly icons conveniently indicating the exact locations of all the Ponce attractions mentioned in your guide (opens in a new window).