La Guancha Boardwalk at Ponce
La Guancha is the name of this popular Caribbean bayside boardwalk at the city of Ponce, Puerto Rico. Have a good time while local people-watching or take your kids to hand feed the friendly pelicans and (quite big!) docile fish at its adjacent marina. An observation tower offers stunning views of the Port of Ponce with many romantic sunset photo opportunities.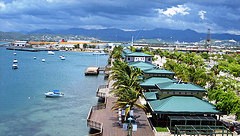 La Guancha is also the venue for many outdoor festivals and mega events.
Only 11 kilometers from city center, here you will find 24 kiosks (mostly picturesque bars and food stands) with lively music in a safe, local family atmosphere.
Abundant, secure parking and ...far from the beautiful small Spanish Canary Islands village with the same name.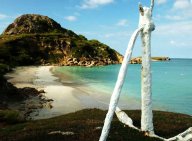 From here you may take a short boat ride to Caja de Muertos for an unforgettable and relaxing beach day trip to this mile-long, uninhabited little treasure of an island. It has its own, charming 19th century lighthouse and amazing surrounding coral reefs that you must appreciate if into scuba-diving or snorkeling.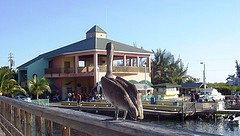 For the alternative touch try Moncho's CAFELAO (KIOSK #13), TravelPonce headquarters and way better than Starbucks!.
Ask Eda for a taste of their 60 different ways of enjoying really GOOD Puerto Rican coffee from Jayuya… while listening to her amazing collection of world music and trying her yummy-yummy home-made burgers. "Sólo para pesonas de vuena bivra."
Stop at KIOSKS #18 (TOBY) or #24 (WILLIAM) and moderately quench with their award winning bar tenders & exotic drinks…
Munch at PURA VIDA (KIOSK #16) with Antonio "El Tico's" Costa Rican touch or savor the exquisite Cuban style seafood at Restaurant El Paladar.
View the expanded version of our Ponce Map, and check the user friendly icons conveniently indicating La Guancha 's exact location and that of all the Ponce attractions mentioned in your guide (opens in a new window).