Isla Caja de Muertos Nature Reserve
Without any doubts, Isla Caja de Muertos Nature Reserve is one of Ponce's best kept secrets. It is comprised of a mile-long, uninhabited little treasure of an island (Coffin Island in English) plus two small adjacent keys: Morcillito and Berbería. All located within a short boat ride from the Ponce marina and its popular bayside boardwalk known as La Guancha .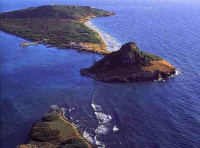 Although it is true that the City is not particularly famous as a beach destination, you will definitely change your mind after you experience Pelican Beach at Caja de Muertos, Puerto Rico's sixth and newest addition to the prestigious Blue Flag Beaches Programme, at this magical deserted island paradise that looks like a movie set.
Complete with its own ancient lighthouse built in 1887 by the Spaniards, this striking building will add an interesting historical aspect to your beach day and sightseeing adventure. There is also a lookout point, a small museum and a recreation area with little gazebos and restroom facilities.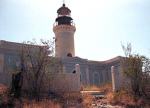 Interesting is the fact that renowned American writer/reporter Vincent Strarrett mentioned in a 1935 article, that Robert Louis Stevenson wrote his classic "Treasure Island" inspired on Caja de Muertos . Being off the mainland, this wonderful tranquil place is home to several endemic, endangered plant and animal species, including iguanas, other reptiles and even sea turtles that nest in the shores of its eastern beach. It has an abundance of beautiful cacti, small thorny bushes and a very vibrant bird life as well. The area is frequently visited my manatees and dolphins.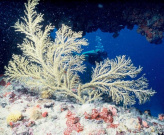 Caja de Muertos also attracts many people who just want to get away from their hectic lives and enjoy some serenity to restore their sense of well-being. Enjoy the crystal clear waters in your own, private "Blue Flag" (Pelican) beach and best of all, the surrounding coral reefs which make it an ideal spot for scuba-diving or snorkeling. Pelican Beach earned the first Blue Flag to a beach located at a Nature Reserve in the Caribbean.
The Blue Flag Programme was born in France in 1985 where the first French coastal municipalities were awarded the Blue Flag on the basis of criteria covering sewage treatment and bathing water quality. 41 countries are currently participating in the Blue Flag Programme: Bahamas, Belgium-Flanders, Belgium-Wallonia, Brazil, Bulgaria, Canada, Croatia, Cyprus, Denmark, Dominican Republic, England, Finland, France, Germany, Greece, Iceland, Ireland, Italy, Jamaica, Latvia, Lithuania, Malta, Montenegro, Morocco, Netherlands, New Zealand, Northern Ireland, Norway, Poland, Portugal, Puerto Rico, Russia, Romania, Scotland, Slovenia, South Africa, Spain, Sweden, Tunisia, Turkey and Wales.
Contact our friends at Caribbean Images Tours if you want to turn a beautiful and unforgettable experience into the highlight of your trip to Ponce. With a friendly staff, they specialize in beginners and novices, frequently taking non-swimmers into safe, fun, educational and professionally guided eco-snorkeling tours of Southern Puerto Rico.
View the expanded version of our Ponce Map, and check the user friendly icons conveniently indicating the exact locations of all the Ponce attractions mentioned in your guide (opens in a new window).