Porta Caribe
Porta Caribe is a Puerto Rico tourism zone promoted as a brand for the 14 municipalities comprising the Southern region of the island facing the Caribbean Sea.
It was established by a Governor's Executive Order in 2006 after the successful implementation years earlier of a similar program for the island's Western district, branded Porta del Sol.
With a name that translates to "Doorway to the Caribbean" the region is a diverse area of mountains, valleys, and a picturesque Caribbean coastline consisting of the following island municipalities:
Arroyo
Coamo
Guayama
Guayanilla
Juana Díaz
Jayuya
Patillas
Peñuelas
Salinas
Santa Isabel
Villalba
Yauco


Spectacular Porta Caribe is rich in culture and history, and is most representative of Puerto Rico's Latin heritage than any other region of the island. Its beauty and historic Colonial architecture bring visitors back into a bygone era.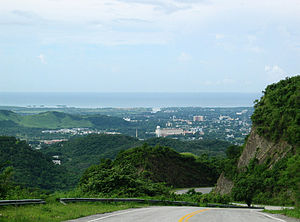 The vast coffee and sugar plantations dispersed throughout the area allow visitors the opportunity to experience another perspective of Puerto Rico.
Stunning forests and tranquil beaches (like Pelican Beach at Coffin Island, the first Blue Flag ever granted to a beach located at a nature reserve) complement the region's major cultural and historic attractions.
As Puerto Rico's Caribbean gateway, it proudly boasts some 1500 hotel rooms and four acclaimed golf courses (including Puerto Rico's oldest); plus an international airport (Mercedita) and a cruise ship terminal (Port of the Americas), both located in its anchor city of Ponce.
View the expanded version of our Ponce Map, and check the user friendly icons conveniently indicating the exact locations of all the Ponce attractions mentioned in your guide (opens in a new window).