The Ponce Letters Monument
The Ponce Letters Monument is a lot more than just five black and red colossal sculptures "arrogantly" spelling out the City's name. Due to its peculiar location at the center and both sides of a major expressway, it is one of Puerto Rico's most controversial public art works. In fact, is the only Ponce attraction you won't be able to stop to admire (actually, you might be fined if you do).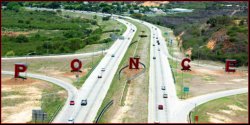 As you pass through the City's main entrance where Highways PR 52 and PR 10 intersect, you will inevitably notice Ponce artist Carlos A. Rivera Villafañe's monumental (6m x 5.5m x 3.7m) creation, deliberately mimicking the look of the world famous HOLLYWOOD sign. At almost half the size of its Californian counterpart, the Ponce Letters monument is made of marine grade steel and originally formed part of The Public Art Project commissioned by the government of Puerto Rico, depicting some 97 site-specific masterpieces located throughout the island.
Numerous national and international artists fashioned their works for this exciting 2002 civic art venture including Liliana Porter, Antoni Muntadas, Ann Hamilton, Ada Bobonis, Deborah Sperber, among others.

Our Carlos Rivera Villafañe is a 1989 graduate of the prestigious Escuela de Artes Plásticas in San Juan, Puerto Rico. His paintings, prints, sculptures, and installations have been proudly exhibited in several renowned institutions and events such as the International Contemporary Art Fair of Madrid (ARCO), which in the past three decades has consolidated its position as one of the world's leading venues for contemporary visual arts. Carlos' works have also been portraited at Miami's Art Bassel; Cuba's Bienal de La Habana; Peru's Bienal Iberoamericana de Lima; Ecuador's Bienal Internacional de Pintura de Cuenca; Slovenia's Bienal Internacional de Gráfica de Ljubljan; New York's El Museo del Barrio and Puerto Rico's own International Art Fair in the Caribbean also known as CIRCA.


View the expanded version of our Ponce Map, and check the user friendly icons conveniently indicating the exact locations of all the Ponce attractions mentioned in your guide (opens in a new window).