National Pantheon
Roman Baldorioty de Castro
The National Pantheon Roman Baldorioty de Castro was inaugurated in February 1843 and curiously, the first person buried in it was the Ponce Mayor that ordered its construction, Juan Rodón.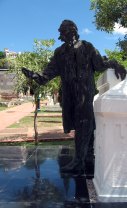 Originally divided in two sections (Catholic and Protestant) the cemetery was closed in 1918 and remained abandoned until its 1991 well thought restoration. From its simple niches and tombs, to the more elaborate pantheons and elegant mausoleums this historic landmark respectfully evokes greatness, sorrow, veneration as well as patriotism.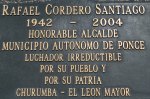 Many illustrious Puerto Ricans were laid to rest in the National Pantheon, including the Ponce Massacre heroe Casimiro Berenguer Padilla; the father of the Autonomist movement Román Baldorioty de Castro; Manuel Gregorio Tavárez, father of the Puerto Rican danza; Antonio Paoli , the King of Tenors and Tenor of Kings; Juan Bertoli Calderoni, Italian architect, designer and master builder of Ponce's La Perla Theater; former Puerto Rico Governor Roberto Sánchez Vilella; and the beloved Ponce Mayor Rafael Churumba Cordero, just to name a few.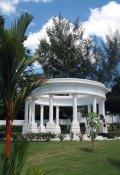 Among the impressive mausoleums you will find many art masterpieces. Fine sculptures such as Antonio Paoli's bronze bust by the famed New Yorican sculptress Gladys Nieves, the grandiose Baldorioty de Castro bronze sculpture by the eminent Spanish artist Víctor Ochoa, and the captivating Churumba bronze bust by another one of our adoptive sons, celebrated New Yorican sculptor Omar Ortiz.
Poetry recitals, political forums, music concerts and other suitable cultural activities are occasionally held in the premises. 787.284.4141 Ext. 2527 – TUE thru SUN (8:30am-5:00pm) – FREE ADMISSION.
View the expanded version of our Ponce Map, and check the user friendly icons conveniently indicating the exact locations of all the Ponce attractions mentioned in your guide (opens in a new window).