Casa Paoli Museum
Casa Paoli is the birthplace of Antonio Emilio Paoli y Marcano, simply one the greatest opera singers that ever lived, whose title "Tenor of Kings and Kings of Tenors" was undoubtedly well deserved. Born in 1871, this legendary Ponce tenor was certainly a world class figure considered as the best, most lyric and powerful opera voice ever, superior even to his contemporary Enrico Carusso.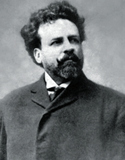 After spending the first 12 years of his life at Casa Paoli , he was educated in Spain and Italy, under direct royal sponsorship. At only 28 and for his highly acclaimed April 1899 Paris debut he bravely accepted one of the most demanding opera characters, Arnold in Rossini's William Tell, a role that scared away some of the greatest tenors, and still does Today. The following day Paoli made the headlines on all French newspapers with comments like: "Thanks God… William Tell has its Tenor" by Les Temps, "We should declare Paoli the Tenor of France" by Le Figaro, and "Paoli, la Nouvelle Sensation de L'Opera Modern" by Cahiers du Opera. In January 1900, he played Manrico in Verdi's Ill Trovatore in front of an Italian public that had a reputation of physically attacking underperforming singers. Verdi who was himself present described his interpretation as "a complete triumph, exciting and unique".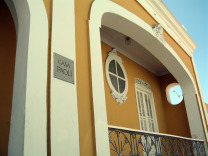 Antonio Paoli's "lungs of steel and voice of gold" would take him to the most important opera houses all over the world, in one of the most demanding schedules ever accomplished by an opera singer. In 1907 he became the first singer to record an entire opera (by Gramophone Studios in Milan) thus beginning a highly successful career as a recording artist.
You can listen to many of his amazing performances at

.
Because of his powerful voice, his notes went cracking the gramophones' carbon filters so he had to sing more than 20 feet away, behind the rest of the singers, the choir and even the orchestra! By 1910 he was easily the most recognized tenor and one of the best paid artists in the world.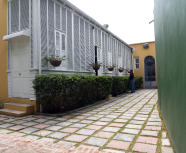 In Ponce's Paoli, the island had the first Puerto Rican to reach international recognition in the performing arts. Establishing new records and hardly followed standards he performed an astounding number of performances (1725) between 1888 and 1942, including 575 as Verdi's Otello who was by then rightfully known as Paoli's Otello.
Throughout his life, titles and honors were endlessly bestowed upon him by a long list of kings and emperors, including the Queen and King of Spain, the Prince of Portugal, the Emperor of Austria, the Kaiser of Germany, the King of Italy and was even declared Honor Singer of The Vatican in 1909, where he performed a private recital in the Sistine Chapel for the Pope Pius X.
He returned to Puerto Rico where he died of cancer in 1942, after spending the last 19 years of his life working with his older (and also famous) sister in their singing school, Academia Paoli. His remains are buried at Ponce's National Pantheon Román Baldorioty de Castro. Apart from showcasing Paoli's memorabilia, Casa Paoli museum also serves as the headquarters of the Puerto Rico Center for Folkloric Research.
Visit Casa Paoli and learn more about the astonishing story of this world famous Ponce character. 787.840.4115 – TUE thru SAT (10:00am-5:00pm) – FREE ADMISSION.
View the expanded version of our Ponce Map, and check the user friendly icons conveniently indicating the exact locations of all the Ponce attractions mentioned in your guide (opens in a new window).