Luis Tite Arroyo
Luis Tite Arroyo, born on February 18, 1927 in Peñuelas, Puerto Rico, is a former major league baseball pitcher. He is also Mamita's (Güela Carmen) cousin and thus a proud member of the TravelPonce family .
Tio Tite made his Major League Baseball debut on April 20, 1955. A stocky left-hander, he spent his first season primarily as a starter with the St. Louis Cardinals and made the National League All-Star team that same year.
Later on he was traded to New York and became the first Puerto Rican to play for the Yankees, where he quickly became an important contributor to the club.
American League hitters had little success against Tite's screwball, and after a solid contribution at the back of their bullpen in 1960, he enjoyed the best season of his career in 1961. That year, our "uncle" pitched 119 innings with a 2.19 ERA, while winning 15 games as the team's relief ace. His totals of 65 games pitched and 29 saves both led the league, he surrendered only five home runs in a season where league-wide offensive totals were very high by historical standards, and was named to his second All-Star team while finishing sixth in AL MVP voting.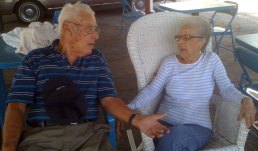 Over the course of his MLB career, he pitched 531 1/3 innings with a 3.93 ERA, collecting 40 wins, 32 losses, and 44 saves.
In an article in 1976 in Esquire magazine, sportswriter Harry Stein published an "All Time All-Star Argument Starter," consisting of five ethnic baseball teams. Luis Tite Arroyo was the relief pitcher on Stein's Latin team.
The photos herein were taken in October 2009 during one of our frequent visits to Puerto Rico. Bendición Tio Tite and congratulations for yet another New York Yankees championship in 2009!
Biographical data in this page taken from Wikipedia under their Creative Commons license terms.