Cultural Center Carmen Solá de Pereira
Our favorite Cultural Center is named after the distinguished Ponce educator and lawmaker Carmen Solá de Pereira, who compassionately dedicated her life to the education of our disadvantaged. Beloved teacher and school principal in La Cantera, one of Ponce's most underprivileged communities, she is also the mother of Ponce Glenview Baptist Church's much admired pastor, Rev. René Pereira Solá.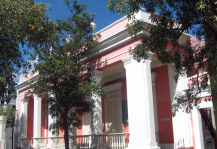 The Cultural Center is located in another exquisitely preserved colonial mansion, built in 1870 as the residence of a prosperous Ponce businessman by the name of Ermelindo Salazar. Designed by the same famed Corsican architect that built La Perla Theater (Juan Bertoli Calderoni) it was the first house with a private telephone line back in 1880, 17 years before the service finally arrived to the rest of the City. It exclusively communicated the owners' family residences with their commercial offices at the Ponce port.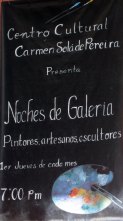 It was in this building that the prestigious Ponce Museum of Art was originally established in 1959 by the wealthy local visionary Luis A. Ferré. It was here also that the Puerto Rican Music Museum was first located.
Since 1992 Ponce's Centro Cultural Carmen Solá de Pereira has been actively promoting the artistic development on our City's rich educational and intellectual environment.
It regularly hosts (every first Thursday of each month at 7PM) the now customary Noches de Galería, where renowned as well as promising painters, artisans and sculptors exhibit their works and showcase their talent. Many welcomed authors also routinely take advantage of the cultural center facilities for their literary chats and book presentations. For more information call 787-841-8044.
View the expanded version of our Ponce Map, and check the user friendly icons conveniently indicating the exact locations of all the Ponce attractions mentioned in your guide (opens in a new window).