Puerto Rican Music Museum
The Puerto Rican Music Museum is located at another superbly restored neoclassical residence built in 1912 by Ponce architect Alfredo Wiechers Pieretti. Also known as Casa Serrallés for its original owners, the wealthy family of the local "Don Q" rum distillers, the house itself is a showplace of elegant stained-glass windows, hand-painted floor tiles, carved mahogany louvers and soaring 12-foot ceilings covered with stamped tin panels.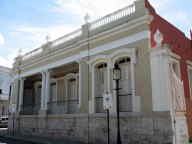 It depicts the development of the Puerto Rican music from its pre-Columbian origins to the present times, in various galleries exhibiting diverse vintage instruments, documents and several works of art pertaining to our rich musical history.
Each room is dedicated to a different musical style from Puerto Rico, like the DANZA hall with its cellos, violins, and French horns; the percussion rich SALSA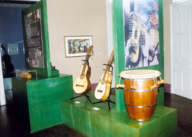 chamber where the bongos, bells, maracas and timbales, mingle with trumpets and trombones; or the BOMBA y PLENA room with congas, tambourines, güiros (gourds), and accordions.
There's even an exhibition of Taino indigenous ceremonial instruments, including a drum made from a tree trunk, some conch shell horns and flutes made of royal palm and bamboo.
787.848.7016 – WED thru SUN (8:30am-4:30pm) – FREE ADMISSION.
View the expanded version of our Ponce Map, and check the user friendly icons conveniently indicating the exact locations of all the Ponce attractions mentioned in your guide (opens in a new window). You may also check our collection of beautiful Ponce photos or go back for more Ponce attractions .