Cruceta del Vigia
While in Ponce, visit the imposing (30 meters high) reinforced concrete cross known as La Cruceta del Vigia. Close to the Serralles Castle, it was constructed in 1984 to commemorate the old lookout post with the same name, established back in 1801 by the Spanish government.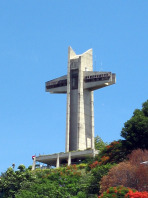 It originally consisted of a rustic shack and a wooden cross on which an observer constantly watching for the ships approaching the Ponce Port raised the corresponding flags, to notify local merchants of incoming trade ships or alert military authorities of possible threats. A replica now sits behind the current monument, while the time-worn original mast is displayed in the lobby of the tourist center at its base.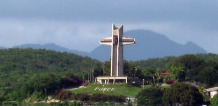 The 10 stories vertical tower and its horizontal sky bridge provide remarkable panoramic views of the city, the Caribbean Sea and the Isla Caja de Muertos Nature Reserve. Visitors can reach the observation deck via glass elevators or through a stair case.
The adjacent grounds also boast an impeccably tended Japanese Garden with beautiful bonsai trees, inspiring ponds, and trickling waters. Complete with drifting oriental music creating a serene, zen-like atmosphere it certainly offers a soothing experience to complement your Ponce tour. La Cruceta del Vigia ticket price includes admission to the Japanese Garden as well as to the adjacent Serralles Castle gardens.
787.259.3816 – TUE thru SUN (9:30am-5:00pm) - USD$4PP.
View the expanded version of our Ponce Map, and check the user friendly icons conveniently indicating the exact locations of all the Ponce attractions mentioned in your guide (opens in a new window).