Ponce City Hall
The Ponce City Hall was constructed in the 1840's in a typical colonial style as designed by the Spanish architect Francisco Gil Capó. Its premises at the South side of Plaza Las Delicias once held the San Antonio Abad shrine.
Besides being the permanent office of all Ponce Mayors, at one time it was also simultaneously utilized as court house, public library and even as a jailhouse, site of the island's last lynching of a bygone era.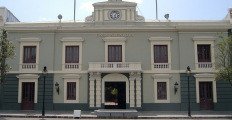 Its interior galleries and picturesque patios are often used for art expositions and public events of cultural and social nature. Among the many works of arts permanently exhibited you will find two paintings from Goya and Francisco Oller, and an oil by Maria Cristina, Regent Queen of Spain (1885-1902) that was stolen by the American invaders in 1898 and "voluntarily returned" after being accidentally discovered back in the 1950's, at the request of the then Ponce Mayor.
Two United States Presidents once stood on the Ponce City Hall balconies: Theodore Roosevelt and Herbert Hoover. Ponce's "Big Ben" clock at the building's facade was brought from England in 1877, same year the City status was awarded by the then Spanish Queen Isabel II.
787.284.4141 – MON thru FRI (8:00am-4:30pm) – FREE ADMISSION.
View the expanded version of our Ponce Map, and check the user friendly icons conveniently indicating the exact locations of all the Ponce attractions mentioned in your guide (opens in a new window).