Municipal Library Mariana Suarez de Longo
Our modern Municipal Library Mariana Suárez de Longo was inaugurated in August 2007, more than three years after the death of its proud mastermind and instigator, the beloved Ponce Mayor Rafael Churumba Cordero.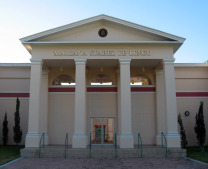 At a cost of USD$14 million, the handsome two story building encompasses:
a digital education center with 150 computers (both IBM and Apple), laptop stations and free wireless, high-speed internet kindly sponsored by the Puerto Rico Telephone Company.
a cozy Children's Reading Corner (Mi Rincón de Lectura) providing a relaxed, comfortable setting for parents who want to read to their kids.
a well-equipped Youth Library sponsored by the international children's literature introductory program known as PIALI (Programa Internacional de Acercamiento a la Literatura Infantil).
a Ponce Historical Archive hall with access to a newspaper library with present and past tabloids including worthy publications of a bygone era such as La Gaceta de Puerto Rico, El Aguila de Puerto Rico, El Universal, and El Diario de Puerto Rico among others.
an exhibition hall for art expositions and other similar public events of cultural and civic nature.
a picturesque courtyard perfect for outdoors wireless internet browsing, book presentations, storytelling activities, lectures and cocktails.
The Municipal Library's virtual education center embraces a valuable extensive (USD$450000) collection of the following digital databases obtained under the Library Services and Construction Act of the US Institute of Museum and Library Services:
Literary Reference Center
Auto Repair Reference Center
Home Improvement Reference Center
Small Engine Repair Reference Center
Hobbies and Crafts Reference Center
Fuente Académica
Psychology and Behavioral Sciences Collection
Master FILE Premier
History Reference Center
Science Reference Center
Points of View Reference Center
Scientific and Medical ART Imagebase
Green FILE
Library Information Science and Technology Abstracts
Océano Universitas
Océano Saber
Océano Escolar
Océano Administración de Empresas
Océano Medicina y Salud
Océano Aula de Padres
Océano Diccionarios
Gold Public Library Package
Britannica Universal Online
McGraw-Hill Encyclopedia of Sciences and Technology
McGraw-Hill Access Science
eLibro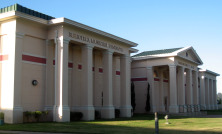 The Municipal Library was suitably named after the much admired "Teacher of Teachers" Mariana Suárez de Longo. Born in 1906 in Aibonito, Puerto Rico she committed almost 40 years of her life to the education of the island's youth. In 1946, she became the first Puerto Rican woman to be designated School Superintendent, commanding the Ponce area from 1950 to 1962. Later on, she directed the Department of Education's southern region, comprised of 14 municipalities. The devoted educator retired in 1972 and passed away in Ponce on 1995.
The library is under the clever direction of Ms. Jo Arleen Torres Hernández and is open to the public MON thru THU (8am-8pm), FRI thru SAT (9am-5pm) and closed on Sundays and Holidays. For more information, call 787.821.3004.
View the expanded version of our Ponce Map, and check the user friendly icons conveniently indicating the exact locations of all the Ponce attractions mentioned in your guide (opens in a new window).