Lupita the Mail Dog
Lupita is the famous friendly pet of Ponce's kind and dependable Postman for 42 years, Heriberto Lagares Rivera. She is a very special, lucky dog that he mercifully rescued upon being mistreated and dumped in front of a local bar by her previous heartless owner. Soon after, and ever since, her association with the United States Postal Service began as she loyally took the job of unpaid mail dog, delivering letters and packages along with her new owner to the fortunate residents of Ponce's historic town center.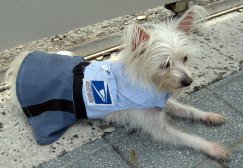 On her daily journeys, the apparent cross between a Yokshire Terrier and a Maltese has made hundreds of friends in all places where she is always welcomed. Especially fond of anyone who smells like a mailbag, cute Lupita has been adopted as the unofficial mascot of the Ponce Postal Service Office where Mr. Lagares Rivera works. His coworkers even made her some charming uniforms with the USPS logo.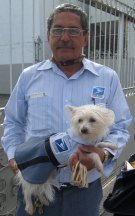 With her pleading look and friendly, intelligent manner she not only won the heart of her recently widowed cancer survivor owner, but those of many local mail recipients that now eagerly wait for her daily call. Many tourists briefly interrupt her chores for photo ops in which she's always ready to participate.
Ponce's celebrity mail pet is also well known to dog lovers around Puerto Rico. Island newspaper El Nuevo Día curiously portrayed her in a 2009 article and she also received recent prominent TV exposure through the national Hispanic network of Univision. To many, Lupita is fittingly reminiscent of Owney, a mongrel globetrotting dog who became the mascot of the Railway Mail Service in the 1890's and whose taxidermist preserved remains are on display at the Smithsonian National Postal Museum in Washington DC.
View the expanded version of our Ponce Map, and check the user friendly icons conveniently indicating the exact locations of all the Ponce attractions mentioned in your guide (opens in a new window).