Lake Cerrillos Dam
The Lake Cerrillos Dam was built by the US Army Corps of Engineers and is located on the Cerrillos River approximately four miles northeast of Ponce. The dam was constructed over an 8 year period and completed in 1992, with the initial filling of the reservoir accomplished a few years later.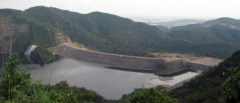 The operation of the project was then turned over to the local sponsor, the Department of Natural and Environmental Resources of the Commonwealth of Puerto Rico. The earth-filled dam measures an impressive 475 meters wide by 98 meters high, and is made of several layers of rocks excavated with explosives from an adjacent mountain.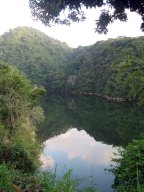 It is part of the larger Portugués and Bucaná Rivers Project, a USD$570 million strategic military endeavor consisting of two multi-purpose reservoirs: Lake Portugués and Lake Cerrillos. The development provides flood control, water supply, recreation, fish and wildlife enrichment, and water quality enhancement benefits. The project also included some downstream channel improvements and a diversion channel connecting both rivers in the southern section of Ponce.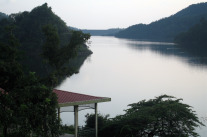 Lake Cerrillos Dam has a total capacity of 59 million cubic meters. In lieu of flood gates, it provides more than 80 million daily liters of water to the local population through a huge (434 meters long - 6 meters in diameter) tunnel at the dam base.
A well designed recreational park was included as part of the development, complete with two boat/kayak/canoe ramps, nature trails and open kiosks with barbecue facilities. The 1993 Central American and Caribbean Games that were held in Ponce staged the canoeing competitions in this spectacular venue. Bring your vessel, fishing gear and enjoy with your family, assisted by enthusiastic park rangers like Mervin Rodríguez and Norberto Torres who will gladly support you with a warm dose of Caribbean hospitality. 787.259.1425 – WED thru SUN (6am-6pm) – FREE ADMISSION.
View the expanded version of our Ponce Map, and check the user friendly icons conveniently indicating the exact locations of all the Ponce attractions mentioned in your guide (opens in a new window).