Bolera Caribe
Bolera Caribe is a state of the art bowling center inaugurated in Ponce on November 2004. It was designed by CMA Architects & Engineers LLP, the same award winning local firm behind many significant Puerto Rico projects such as the Center for Molecular and Comparative Medicine at the Ponce School of Medicine, the 16 story Torre Chardón office tower in San Juan's Plaza Las Américas and the underground, much talked about Urban Train Río Piedras University Station.

Among its fashionable facilities, the modern USD$6 million, 2500 square meters Bolera Caribe at the Coto Laurel Plaza Ponce shopping center boasts:
Twenty four synthetic lanes with the most advanced Brunswick GSX equipment
Tournament space for up to 300 spectators
Billiard room
Game room
Cafeteria
Private conference room with capacity for 25
A full service restaurant by the name of Café Caribe Restaurant-Bar & Grill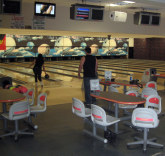 The professional-grade Ponce bowling venue is in full regulatory compliance with the World Tenpin Bowling Association (WTBA) standards. Accordingly, it was fairly designated as the official stage for the bowling competitions of the XXI Central American and Caribbean Games held in Mayagüez, Puerto Rico in July 2010.
Bolera Caribe in Ponce warrants some well deserved family entertainment for die-hard aficionados or occasional, recreational bowlers and their loved ones.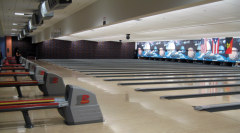 Many local leagues, such as the Asociación de Boleadores del Caribe (ABC) and the Ponce Bowling Club (PBC) routinely devastate the neat arrangement of pins staring from the far end of each lane, and celebrate their bowling tournaments there.
The site is also available for birthday celebrations, fund raising and other group events. It is open to the public MON thru THU (11:30am-12 midnight), FRI thru SAT (8am-2am) and SUN (8am-12 midnight). Call 1.787.812.0375 for more information or to reserve for your private activity.
View the expanded version of our Ponce Map, and check the user friendly icons conveniently indicating the exact locations of all the Ponce attractions mentioned in your guide (opens in a new window).