Albizu Campos Park Monument
The Don Pedro Albizu Campos Park Monument in Ponce's Tenerías Ward is located exactly in the same spot where the famed revolutionary father of the Puerto Rican nation was born back in September 12, 1891. It was built on an initiative led by the distinguished Ponceñista lawyer José Enrique Ayoroa Santaliz and sponsored by the legendary, eternal Ponce mayor Rafael "Churumba" Cordero.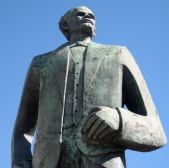 Inaugurated in 1992, the handsome passive park was designed by architects Magda Bardina, Roberto Puello and Raymond Marcel incorporating an imposing bronze statue of the patriot by Rafael López del Campo; the same celebrated Puerto Rican artist that authored the San Juan Bautista sculpture in front of the Capitol in Old San Juan.
At its base, there is a commemorating plaque left by the Cuban delegation to the 1993 Central American and Caribbean Games that were held in Ponce.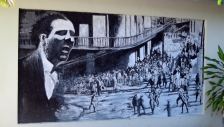 Known as "El Maestro" for his exceptional oratorical skills and fluent in English, Spanish, French, German, Portuguese, Italian, Latin and Greek, Don Pedro obtained a Law degree from Harvard University while studying Literature, Philosophy, Chemical Engineering and Military Science.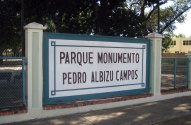 Every September 12, a public tribute in his honor is held at the Albizu Campos Park to perpetuate the memory of the most prominent nationalist leader in Puerto Rico's colonial history.
View the expanded version of our Ponce Map, and check the user friendly icons conveniently indicating the exact locations of all the Ponce attractions mentioned in your guide (opens in a new window).